IPEN Placenta Remedies Training created by Lynnea Shrief, IPEN Founder and Director and first in the UK to provide placenta encapsulation services to the public from May 2009.
Available in UK, Ireland, Australia, Hong Kong, Japan and Singapore
Checkout this video and read below for more information.
"With IPEN you will become part of an expanding group of holistic professionals who understand the precious placenta is not waste product, but a priceless healing agent with the power to transform a new mother's post-birth experience." Lynnea Shrief IPEN Founder
IPEN's Training Program is completed in 3 parts
Part 1.  Online Theory Training
Price: £325 total cost for Part 1 and Part 3 payable upon registration
Part 2. Three online courses in Food Safety, Infection Control and HACCP
Price: combined cost £70 + VAT payable to third party providers
Part 3.  Hands-on Training with an experienced IPEN Instructor
Price: included in Part 1
You will receive a certificate upon completion of each part
Prerequisites
You MUST have previous training and experience in pregnancy, birth or post-natal support.  We do not provide any form of birth training therefor a basic knowledge and understanding of the importance of natural birth and holistic birth support is a highly important prerequisite for this course.  If you would like to discuss your level of training and experience with us to ensure you have the suitable knowledge base to begin IPEN's training program, please get in touch by filling in the form below.
Health and Safety
Of utmost importance in our service as IPEN Placenta Remedies Specialists is our knowledge and awareness surrounding infection control and food safety. You will be handling human tissue and preparing it for consumption, potentially exposing yourself to bloodborne pathogens and dealing with the risks associated with cross-contamination. By following the IPEN training program and becoming additionally certified in food safety and infection control, you will be fully equipped to keep you, your clients and your family safe. We work with human placentas donated from mothers for practical training.
The 3 Part training program in detail
Part 1 – Online Theory
IPEN offers an interactive online theory program providing you with in depth knowledge about the placenta and placentophagy, extracted from credible and referenced sources including research papers and medical journals. Essentially, our Part 1 program is a compilation of all the information, research, knowledge, know-how and expertise collected and organised by IPEN and its many experienced placenta specialists over the last 8 years.  Our modern learning program allows you to login and logout when you need, includes ongoing assessments and tracks your progress throughout. You will have 120 days online access to the content allowing you to learn at your own pace. The learning material will give you the skills needed to answer questions about the anatomy and physiology of the placenta, history of placenta consumption, modern uses for placenta, benefits of placenta remedies, contraindications to placentophagy, safe practice, client care, food safety and so much more.  Our theory program has 8 units with a total of 42 different subjects of learning material with ongoing assessments throughout. You will also be expected to complete a 1-1.5 hour exam at the end of the course to ensure you have understood and comprehend all of the learning material. You must pass the exam in order to move forward to Part 2.
Part 2 – Additional Online Certifications
Certificates in Food Safety, Infection Control and HACCP Level 2
To work safety and professionally as a placenta remedies specialist, you must hold certificates in food safety, infection control and HACCP Level 2.  These 3 online courses will ensure you meet UK requirements for food handlers as well as the ability to implement and operate a functioning HACCP in your working environment. Furthermore, you will have an excellent understanding of your legal obligations as a food business and a person with regular human blood exposure, the techniques for undertaking an infection control risk assessment and maintaining a hygienic working environment, including how to ensure the correct hand washing procedure is followed.
Part 3 – Hands-on Training in a group with an IPEN Instructor (see dates below)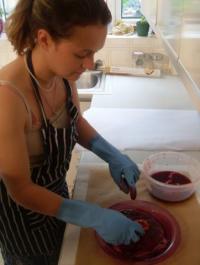 You have as much time as you need to complete Part 1 (120 days), however Part 1 and 2 of IPEN's training program MUST be completed before attending Part 3.  We recommend you give yourself at least 30 days to complete Part 1 and Part 2 of IPEN's training program before attending Part 3.  You can book Part 3 any time after registration and payment for Part 1.
With a small group of no more than 6, you will learn from an experienced IPEN Instructor exactly how to prepare placenta remedies in your own home or clients home.  You will spend the entire day in the kitchen making placenta smoothies, capsules, tinctures and essences using the IPEN Method.  You will also be shown key skills in managing a safe working environment, disinfection of surfaces and equipment procedures, equipment maintenance and control and how to read and interpret the IPEN HACCP and food safety management system. You will receive a pack of information to take home with detailed placenta preparation recipes including photos and much more.  Check out Dates Available
Meet our team of  IPEN Instructors
Investment in your new Business
IPEN Specialists must purchase their own equipment and supplies in order to offer professional services in their local areas.  Full details of each individual cost are outlined during Part 1 of the Training Program.  You should expect to invest a total start up cost amount of £700-£1000 in your new business – IPEN Training, food safety and infection control certification, equipment, marketing materials and supplies as well as 1 year membership.
"Fabulous training day. the group was the right size to facilitate learning. We all got a chance to partake in the practical session. Lovely warm and relaxed atmosphere, felt comfortable asking any question big or small. Lynnea is passionate about placentas and the benefits of consumption, this was evident through her teaching and I learnt so much. Thank you."
"I just wanted to tell you how excited I am about everything that we learned yesterday. I thought the day was so informative and personal at the same time. I have been on training courses before where people were trained en masse and it just felt like a money spinner rather than meeting dedicated people who are passionate about the same goal. Thank you so much!"
When, where and with who…
How to Sign Up
Fill in the form below to express your interest in IPEN's training program and receive a prospectus with more details of what you can expect from IPEN.  If you would like to register and begin training immediately, request login details for IPEN's training program so you can start training straight away.  The full fee of £325 is payable by credit or debit card upon registration.
IMPORTANT MESSAGE FOR UK TRAINEES:  The novel food classification of human placenta is still pending by the Food Standards Agency since June 2014.  We have raised over 6,000 signature on our petition to the FSA.  Separately, some environmental health officers (EHO's) in UK boroughs (Dacorum, Swindon, Brighton and Richmond) have restricted placenta services until further notice for various reasons that are out of IPEN's control, mainly with regards to absence of scientific based evidence of potentially harmful bacteria found on placenta.  We are continuously communicating with EHO's from these boroughs to find a way to move forward and there is currently research underway in Germany which will more than likely provide the laboratory results we need to satisfy the demands of some EHOs.  You can read more about these situations here and here.  As a deep rooted and soulful Placenta Network, we recognise and have faith in time.  Many new and different ideas or practices throughout history are usually met with doubt, fear and rejection at first and we realise it may take time and reliable, published research before the public, environmental health inspectors, the FSA and the health care industry give our services the respect and acknowledgement it deserves.  New research into the benefits of placenta encapsulation through a double-blind placebo trial is due to be released within the next 2 months as well as the German research due to be published in mid 2017.  We are hopeful the findings will be a catalyst of positive change in attitude towards placenta consumption.  Together, and despite a few bumps in the road, we all continue to nurture, protect and cherish our skills and invaluable knowledge as placenta remedy specialists.
"I do not think you can find that many people with the amount of passion Lynnea has for what she does. As a result she gives you information, help and inspiration. Her enthusiasm is contagious, and that always improves the learning experience.  Excellent training, eternally grateful."
"The training covered everything we needed to get started.  Being part of a group of Placenta Encapsulation Specialist's feels great and I am proud to be spreading the word about the wonders of the placenta!"
"It was a fun and interesting day. I was keen to take part in the encapsulation process as I learn by watching and doing. The tone of the whole day was very relaxed which aided a "Yes, I can do this" attitude. Any questions were answered thoroughly."
"I had a fabulous time with Lynnea and learned a lot about the benefits for mums in consuming their placentas. I was also pleased to learn about the different therapies that could be offered with placental encapsulation."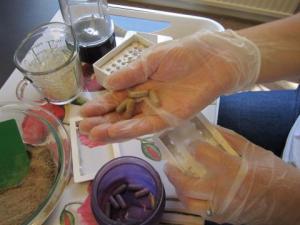 "I am very excited to be part of this network!"
"My training was very professionally delivered and educational.
Lynnea is a highly experienced professional. She is a natural communicator and shows passion and enjoyment of her subject.
She kept good time management as she covered all topics and areas within the handbook we were given. I am a Registered Midwife and trained with other Midwives so we did skip the phisiology which was necessary. Lynnea seamlessly linked the time saved for discussion and feedback.

I would not hesitate to recommend the training as a Placenta Specialist and would be happy to answer any questions a future participant may have before registering on a course.
Thank You"
Tara Windmill-Robson
Registered Independent Midwife
Host a Workshop in your Country – Get in Touch
"It was a lovely day in a very friendly atmosphere. I felt both the theory and practical session were very good, the course material easy to understand and very comprehensive."
"I really love your passion for the placenta and I hope that I can spead that passion when I am working and provide a service that reflects IPENs nurturing ethos which I love. I think that is what sets IPEN so highly in comparison with Placenta Benefits and other companies; such a personal, friendly service is what is most needed for new mums straight after birth."
"I found the day informative, thorough and very encouraging. The training material was clear and the encapsulation kits were incredibly detailed – Lynnea had thought of absolutely everything!! "
Lynnea is a fearless promoter of Placenta Encapsulation. I have doubled my output this year!
PRN Membership
After completing all 3 parts of IPEN's training program, you have the option to join PRN – Placenta Remedies Network as a registered member.   PRN is a not-for-profit network of certified placenta specialists around the world. As a registered Member of PRN, you will have 24/7 access to PRN's members section, an online profile on PRN's Specialist Directory, client care materials, PRN advertising materials and learning packs, PRN labels and client care cards, wholesale supplies lists,  HACCP and food safety management system and continuous support and networking…giving you the professional, physical and emotional support you need to start helping mothers in your area straight away.  Please visit www.placentaremediesnetwork.org for more information
A bit about Lynnea Shrief – IPEN Founder and Director
Ever since I was a little girl I can remember loving babies, fascinated with motherhood and birth.  I feel compelled to support post-natal mothers and I'm drawn to learn more about the awesomeness of birth.  I consumed my son's placenta in 2009 after a beautiful home water birth.  I had 2 smoothies, lots of raw frozen placenta and TCM capsules.  As a result my energy levels were very high, I only bled lightly for less than a week, my milk 'came in' in just 13 hours after birth and remained a full supply throughout and I had bounds of energy continuously for months after birth.  I looked and felt great and knew this was something more women would enjoy…if they only knew about it.  IPEN was built in 2010 from this passion, enthusiasm and a lot of late nights on my laptop.  IPEN is the first of it's kind in Europe and still the only hands-on-training provider available outside of the USA.  I recognised a need for this more powerful and nutritional type of post-natal support and I feel so proud it's grown so successfully over the last 6 years.  I know women feel comfortable and safe when they are supported and loved by other women who believe in them, encourage them and empower them…and that's what IPEN is all about! -Lynnea x
Get in Touch and Ask for a Prospectus
Fill in the form below and receive a prospectus for the IPEN Placenta Remedies Specialist Program