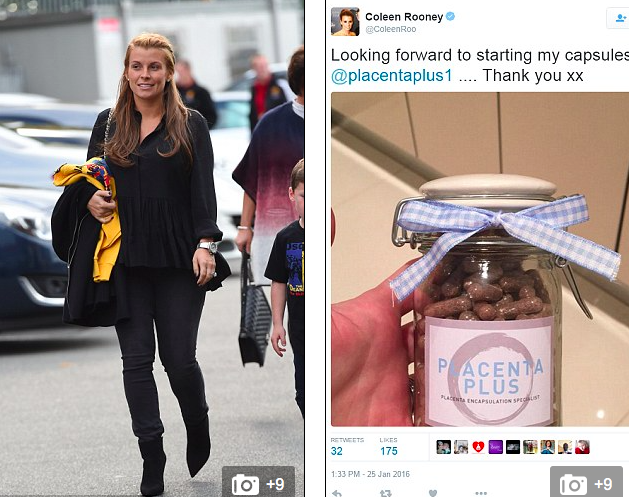 We are proud to announce that the placenta specialist based in Liverpool, Danielle Kinney, who encapsulated Coleen Rooney's placenta last weekend is an IPEN trainee who is currently finalising her last few papers to complete her certification as an IPEN Placenta Remedies Specialist.  Serving high profile clients, actors, film producers and models is nothing new for IPEN specialists; we've supported many over the years.  Just Tuesday this week Key 103 breakfast show host Chelsea Norris also tweeted her excitement in receiving her placenta capsules made by IPEN specialist Emily Street.  But the hype and attention brought on by Coleen Rooney's placenta pills tweet on Monday has been astronomical.
IPEN trained placenta specialists have been offering professional advice and services to support new mothers who wish to consume their placentas after birth since 2010 and to date we have served over 4000 UK based mothers.  Our clients are women from all walks of life, have different types of births and who live different types of lifestyles.  This practice doesn't just attract 'crunchy natural mamas'.  Women seek our services because they believe in their bodies and the healing potential of an organ they themselves grew and created.   Women simply want to feel better, stronger, healthier and happier after birth and placenta remedies have shown to help so many women achieve their goals.  Some doctors may disagree, shun the practice or point out the lack of research and evidence or potential placebo effects but this year we await the publication of two research papers from UNLV in the USA and Jena University in Germany on the subject, which we feel confident will put an end to the skepticism.
For anywhere between £150-250 (depending on where you live) an IPEN specialist can prepare a mother's placenta into one of two types of capsules which are taken in the months following birth.  The TCM method is based on ancient Chinese Traditional Medicine and involves steaming the placenta prior to dehydration and encapsulation.  The 'Simple' method, which is becoming increasingly more popular, removes the steaming process, involving only dehydration of the raw placenta followed by encapsulation.  Many of our specialists will prepare a raw placenta smoothie for mothers prior to the making of capsules, which we have found offers the mother an instant boost of energy, reduces post-natal blood loss and helps her recover quicker after birth.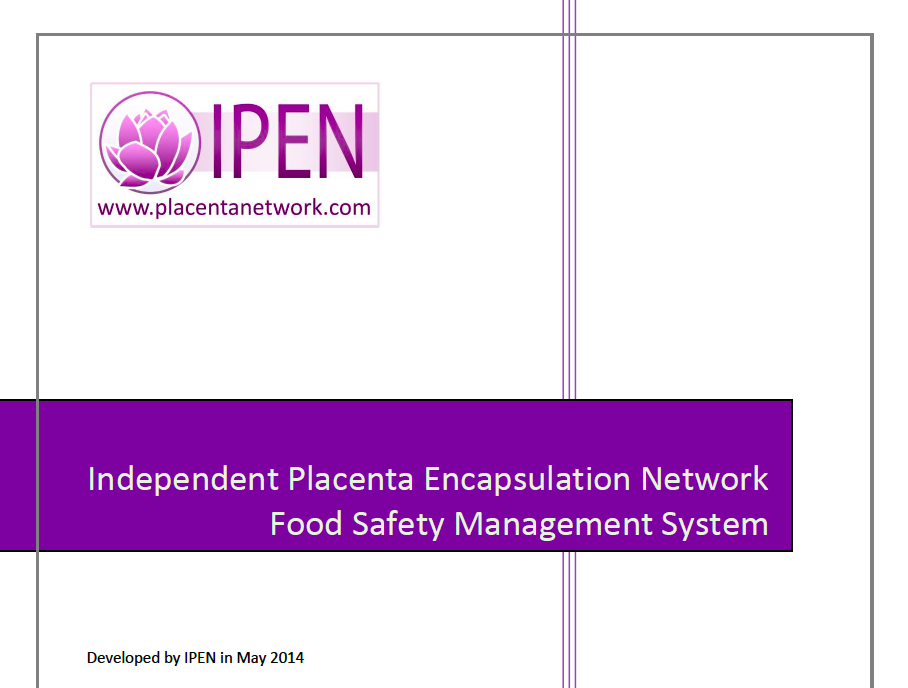 Not only are IPEN trained specialists qualified midwives and birth doulas who work with birthing women on a daily basis, but we also hold up to date certifications in food safety, infection control and hazard analysis (HACCP).  As professionals in the field of placenta preparation, we follow a strict food safety management system developed by one of the UK's leading food safety experts and reviewed by two of the UK's leading food safety microbiologists.
If we don't attend the birth in person, we are there soon after to collect the placenta and ensure it is kept at a safe chilled temperature before preparing into remedies. We provide our pregnant clients with clear instructions for their midwives and for their birth partners, before they birth, to ensure the placenta is handled and stored with care and not contaminated in the birthing environment.  Most NHS midwives are familiar with this practice and offer their help and assistance in safe handling in the moments after birth.  If a mother births at home, more often than not we will prepare her placenta in her own kitchen instead of our own, allowing her to witness the entire process and even get involved and help out, which many mothers enjoy.  The option for mothers to have their remedies made in their own home is always available.
IPEN Placenta Specialists pride ourselves on keeping our businesses incredibly safe for our clients and we ensure our services and food safety protocols are as strict as possible. We understand that birth is more than just a bump in the road but a memory that will stay with a mother for a lifetime and we hope her placenta remedies will become a positive part of her postnatal journey.