Product Description
UK ONLY: Placenta Encapsulation Hire Kit containing all the equipment you need to make your own placenta capsules 'placenta pills' at home, includes a comprehensive and fully pictured step-by-step guide.  Make it very easy for a family member or close friend to make your capsules for you.
Available in UK and Ireland only.
£99 including FREE RETURN POSTAGE! (excludes Ireland)
PLEASE NOTE:  Before ordering please click on the link below to contact IPEN to enquire as to whether there is a DIY hire kit available for your EDD (expected due date). Once availability is confirmed you can then go ahead and book a DIY hire kit.
GET IN TOUCH FOR AN INFORMATION PACK & BOOKING FORM
"I cannot recommend making/taking these capsules enough.  It eliminates any of the so-called normal 'ups and downs' – keeps you on a level and helps with the effects of sleep depervation!  People keep commenting on how well I look!"  Mum of two, Ruth in London who used the Hire Kit service.

"I want to say how excellent your service is as in how speedy you are in responding to queries, questions & advise & all with such positive energy & vibes. I practice energy healing & channeling & in life I work only with those whom i feel hold energy of great intent like you do. My guides connect me to these people & you are definitely one of them & on you're right path in life!!!"  Emma-Siara who used the Hire Kit.
DIY Placenta Hire Kit Includes:
Appropriate Placenta Care Document for your Midwife to ensure proper handling of your placenta after birth
Top Tips Guide for a Successful Placenta Encapsulation
Placenta Smoothie Recipe
Fully pictured step-by-step instructions for a Traditional Chinese Medicine (TCM) method of placenta encapsulation and Raw Placenta Capsule instructions now also included
Sterilised food dehydrator with timer
Sterilised food grinder
Sterilised capsule making machine
Purple tinted storage jar with label
200 empty vegetable capsules
6 pairs of new vinyl gloves
Placenta capsules dosage and storage instruction card
Gorgeous purple organza cord keepsake tote bag
Information, support and guidance over the phone, email or Skype before, during and after encapsulating your placenta
Pre-stamped return postage label
Placenta Encapsulation Hire Kits are limited, book early to avoid disappointment.
ALL EQUIPMENT INCLUDED IN HIRE KITS ARE WASHED, DISINFECTED, STERILISED and PACKAGED TO ENSURE SAFETY WHEN USING OUR HIRE KITS – THIS COMPLIES WITH CURRENT UK FOOD HYGIENE AND SAFETY REGULATIONS.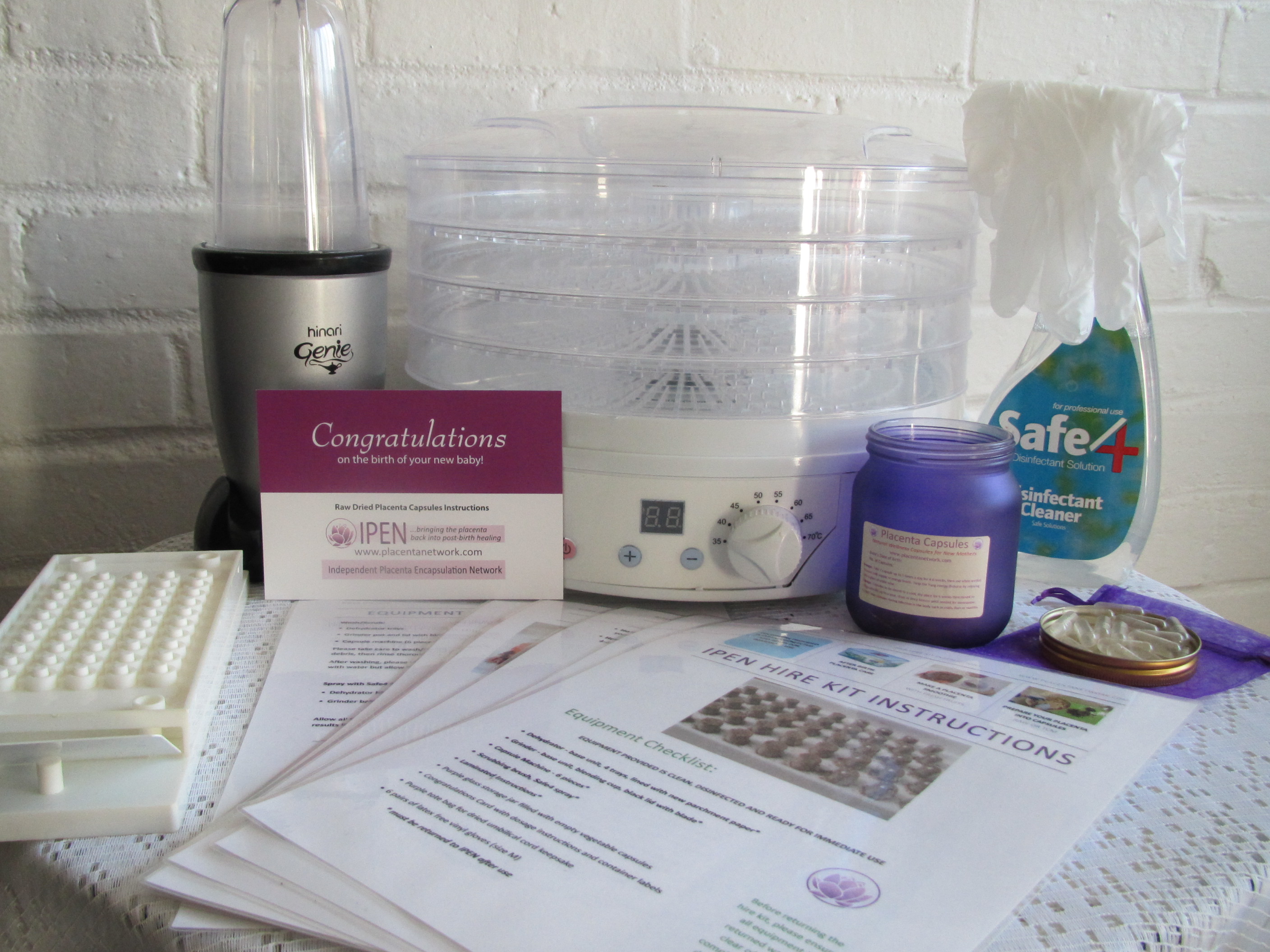 IPEN Placenta Encapsulation Hire Kit Service Terms
IPEN offers DIY placenta encapsulation Hire Kit services in the UK and Ireland.
Hire Kits must be booked in advance using a booking form which can be requested by emailing IPEN directly here.
Hire Kits are sent out one week before your baby's due date and must be returned within one week after baby's birth.
IPEN Hire Kits contain most equipment needed to carry out a placenta encapsulation minus a steamer pot and spices used during Stage 1 and knife and cutting board.
Hire Kits come with fully pictured step-by-step instructions on how to complete a placenta encapsulation according to Traditional Chinese Medicine Techniques and Raw Capsules instructions are also now included.
IPEN does not guarantee the quality of placenta capsules made using the IPEN Hire Kit as placenta capsules will be made by the client themselves.
IPEN recommends those using Hire Kits follow the instructions provided carefully to ensure the desired product is produced.
All Hire Kits are thoroughly cleaned and sterilised following our Code of Practice before and after use.
Hire Kit Terms and Conditions will be given with booking form and must be signed and returned along with booking form when reserving a Hire Kit.