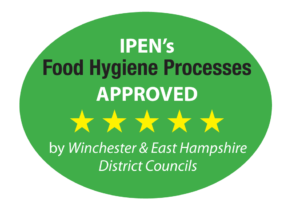 We would like to announce the wonderful news that two different UK boroughs have now approved IPEN certified placenta specialists with 5 star food hygiene ratings.
Congratulations to:
Amanda Denton in Winchester Council
Mhairi Firman in East Hampshire Council
IPEN certified specialists are taught processes for the preparation of placenta remedies based on a comprehensive and thorough Food Safety Management System written by IPEN in collaboration with one of England's top food safety specialists.  IPENs food safety processes including HACCP (Hazard Analysis Critical Control Points) are validated by 2 leading British food safety microbiologists. When training to become an IPEN certified placenta remedies specialist you can be sure you are making a secure investment in your future working with post-natal mothers and their placentas.  We are proud to use this stamp of approval on our website and hope to add more IPEN specialists in their boroughs to our approval list.  Well done ladies!
Find our more about IPEN's unique online and hands on training program here.