After Birth Placenta Care and Placenta Storage Information for Parents
For those wish to safely preserve their placenta in the hours after birth before the making of placenta remedies such as placenta pills/capsules (placenta encapsulation), placenta smoothies, placenta tincture and/or placenta essence.
What makes our information reliable and trusted? 
IPEN is the leading placenta remedies specialist training provider in the UK and Europe having trained over 350 professionals in placenta preparations since 2009. Over the last decade leading the placenta services industry in the UK, IPEN has consulted and collaborated with multiple food safety consultants and two of the UK's top food safety microbiologists to develop the world's first Food Safety Management System for the safe preparation of placenta remedies for consumption. The recommendations below are taken directly from the IPEN food safety system, providing you with important and reliable information needed to store your placenta safely after birth.
 After Birth Placenta Care - Key Points
Store placenta in a refrigerator or 'on ice' in a cooler bag/box at or below 8°C (46.4°F) within

30 minutes

of its birth.

Transfer properly stored placenta to a refrigerator within 12 hours after birth.

Prepare placenta into remedies or consume within 3 days after birth.

Do not dispose unused or unwanted placenta in public or personal waste disposal bins for collection.  Take unused or unwanted placenta to your hospital in a plastic, leak proof bag, and ask for safe biohazard waste disposal of your placenta.
Hospital Birth Placenta Storage Kit
Many IPEN Certified placenta specialists will send or deliver a 'Placenta Storage Kit' when booking.  If your placenta specialist does not provide this option or you are preparing your own placenta remedies, you will be responsible for ensuring you have the things you need to keep your placenta chilled on ice after birth. 
"But I'm having a Home Birth

"
Even if you are preparing for a Home Birth, we strongly recommend you read the below important information and prepare a Placenta Storage Kit just in case you need to transfer to hospital.
Home Birth Placenta Storage is SIMPLE!  After a home birth, place your placenta in a lidded storage container in your refrigerator (on the bottom shelf) within 30 minutes of its birth.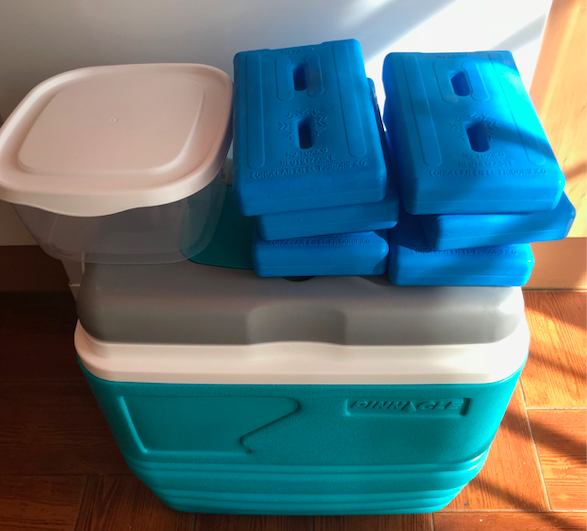 *Click on the links above to see items in Amazon.co.uk or images of the items listed. 
Prepare - Before Labour
Clean your cooler with antibacterial wipes or cleaning spray and cloth, inside and out, and put it near your front door or near your 'hospital bag', somewhere you won't forget when you leave for the labour ward.
What does 10% volume of ice mean?  If your cooler has 20L capacity, 6 x 400g ice blocks = 2.4kg ice.  Perfect for a 24L capacity cooler or less.
Put the ice blocks inside a plastic carrier/shopping bag and place in the freezer.  Write a note to yourself and stick it on the cooler to remind yourself not to forget the ice blocks before you leave for the labour ward.  Putting the ice blocks in a bag allows for quick and easy transfer and also helps when you get to hospital...see below.
Wash the plastic storage container and secure lid in hot water with dish detergent. Dry the container and lid and adhere the Placenta Container Label, provided by your IPEN specialist, to the lid using adhesive tape.  Don't forget to write your personal details on the label.
Place the large zip-lock or resealable plastic food bag inside the washed container and put the container inside your cooler...ready to go!
Gather - In Labour - Leaving Home to Hospital
Collect your frozen ice blocks from the freezer and put them inside your cooler.
Don't forget to bring your cooler to hospital!
Prepare - In Hospital while in Labour 
If this is your first or second birth it may be a few hours until your baby makes his/her appearance.  Keep your ice blocks frozen by requesting the staff to store them in their freezer.  Some hospitals may be helpful and assist you; ask your midwife.  Storing your ice blocks in the plastic carrier bag, listed above, makes it nice and easy to transfer from the cooler to the midwife, midwife to freezer and back again.  If you are in hospital for a long period of time and the hospital is not storing your ice blocks in a freezer, we suggest asking a friend or family member to take your ice blocks home, put back in the freezer, and return them just before or just after your baby's birth.
You may not be the only ones storing ice blocks in the hospital freezer, so labelling your carrier bag with your name may prevent mix-ups after birth.
Just before baby makes his/her arrival, ensure your birth partner is prepared with the placenta storage container nearby.
If you happen to be transfered for an assisted delivery or caesarean section, your birth partner can ask to bring the cooler or placenta storage container into theatre so the placenta can be stored safely in a lidded container moments after its birth.  This may not be allowed.  If not allowed, your birth partner should keep a close eye on the placenta and ensure every staff personnel in theatre is aware you would like to keep your placenta. Your placenta can be transferred to the storage container as soon as you are moved to recovery.
Store Safely - After Birth
Be sure your placenta is birthed onto a clean surface, ie. inco pad or clean towel.  Avoid birthing the placenta into a toilet, birthing pool or onto a surface soiled with birth fluids or excrement.  This is the first step to preventing contamination from your birth environment.
Ask your midwife to wear clean gloves when handling the placenta during inspection.
Your birth partner can place your placenta into the resealable food bag and press the seal closed.
Place the placenta, which is now inside the food bag, into the plastic storage container and close the lid firmly.  If there is space, putting an ice block inside the container as well, may help reduce the temperature of your placenta very quickly.
ON ICE WITHIN 30 MINUTES OF BIRTH - Put the container into the plastic carrier bag, surrounding it with frozen ice blocks, 2 below, 2 on the sides and 2 above.
Tie the carrier bag tightly to ensure the ice blocks are held firmly against the plastic container.
Place the carrier into the cooler and close the cooler.
Make a note of the time of birth of the placenta.
Transfer the placenta to a refrigerator within 12 hours after birth.
Prepare, or have your placenta prepared into remedies by a Specialist, or consume within 3 days after birth.
Placentas can be stored in the freezer, packed as described above, for up to 6 months after birth.  Defrost a frozen placenta in the fridge for 24-36 hours before preparing, or having placenta remedies prepared for you.  We do not recommend you consume raw remedies such as placenta smoothies or raw dehydrated placenta capsules from a frozen, defrosted placenta.