BABY ROMAN'S BIRTH STORY – PLANNED HOME WATERBIRTH ON 21ST March 2009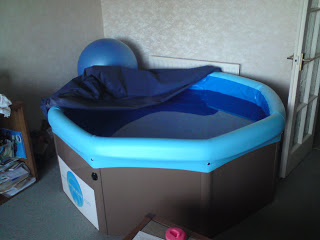 On the 20th of March I woke up feeling great! My mum was here and we were ready for the baby at any time. We walked my daughter to nursery school and had 2hours 45min to go for a long walk and chat together. It was a great walk and we went all around the area, up hills, over barbed wire fences (I know, my mum is nuts and we got a little lost in the woods) and over cow pastures. Eventually I could see my house, about a mile over the valley, so we made our way home and I went straight to bed while my mum picked up Sianna. We had a great light lunch and decided to order a curry for dinner to try and get things moving along. By the time we went to collect the curry I noticed that the regular braxton hicks contractions I'd been having every 30 minutes for the last 3 weeks were now every 10 minutes and a bit stronger. I kept saying, hum, he's coming soon. My mum would then say, 'how soon?' and I would say, I DON'T KNOW! I had a float in the birthing pool (hired from GentleWater) to see if that would kick start things before bedtime, but no, the contractions stopped. So I went to bed.
I woke up 21st March at 6am! I never ever ever wake up before 8am unless I am rudely awakened, I'm not a morning person. But I was wide awake and lying in bed wondering what had woken me. Then I felt a huge contraction, but not painful, just so so so tight! I rolled over and told hubby (Saher) he wasn't going to work and this was it. He moaned and rolled over the other way, ignoring me….typical. I went into the lounge to wake up my mum, same reaction. So I went into the kitchen and poured myself a Chamomile tea and swayed around in my bathrobe singing songs to my belly while mum and Saher slept for the next hour. Contractions were every 7-10 minutes and getting stronger. Saher and mum finally woke up and said, so what, aren't you in labour? I was so relaxed and calm they didn't believe me. Then, for the next hour I was on the loo. Contractions were every 6 minutes but only lasting a minute or so and eventually I needed to get into the pool as they intensified. Our daughter Sianna (3 years old) woke up and was making the baby a big puzzle next to the pool, she was so calm and knew her brother was on his way. I was in and out of the pool for the next hour going to the loo after or during every contraction. Just before the MW arrived, around 9am I had one huge 3 minute contraction and tried to use my hypnobirthing breathing but started to feel the pain and began to doubt myself and wishing it would be over quickly.
When midwife walked in the door I started to cry and really had a good cry for the next 10 minutes. Not sure why but I just let it out. Contractions were now extremely painful and every 3 minutes lasting at least 2 minutes. Around 9.45 I was saying, 'why is it taking so long' and 'I want it to be over'. My mum and midwife were reassuring me and keeping me concentrating on my breathing. I couldn't even open my eyes and I remember my muscles in my arms and legs contracting and I couldn't open my hands as my fists were clenched out of my control. It was so weird. I started to feel baby needed to come out so I flipped over from all fours to floating on my back and after 2 contractions he was out. No pushing, just breathing. Roman was born at 10:01am weighing 7lbs 12oz, my biggest baby yet.
He looked just like his dad and was a little blue but pinked up quickly. Lots of soft short black hair. The second midwife started to rub him with a towel and wanted him to have a big cry and I had to push her away because I felt it was unnecessary and invasive. Water babies are naturally calm at birth and usually don't cry right away. The cord was really short so they cut it as soon when it stopped pulsing because I couldn't hold him properly. For the next hour I was on another planet. I decided to birth the placenta naturally as I am making placenta capsules for healing and the pain was so intense. Saher was massaging my back while I was on all fours crying for 1 hour and 10 minutes. My mum had the baby I guess. I think the placenta was worse to birth than baby was but I read later that this was probably my fault as I was lying still on the floor and walking around is necessary for a faster third stage. After it finally came out I felt human again and just laid on my back and called my sister and best friend. I could finally smile and feel happy and have a hot shower! Within a half hour I was clean, in bed and holding my babies, one much larger than the other and feeling like supermum!
So in total, labour was 4 hours, which isn't bad. I had a small tear, no stitches and felt very energetic after the birth. My mum made me a delicious raw placenta smoothie which I drank with my daughter in bed about an hour after birth. About 2 hours later I had to be stopped from emptying and scrubbing the birthing pool!
Little Roman was so congested and snorted for the next 3 days. He is so cute and such a joy to finally have here in my arms!
I ate small raw frozen pieces of my placenta about three times a day for a week, then made my placenta capsules according to Traditional Chinese Medicine techniques. My breast milk came in just 12 hours after the birth and I felt incredible, only teary a couple of times but it soon passed.
I can't believe I'm a mother of two beautiful babies! How Amazing!
Thanks for reading! xx Lynnea and Baby Roman
(written 2 weeks after birth)
Lynnea is a Holistic Therapist and IPEN Director and Placenta Encapsulation Specialist in Herts, UK Visit Lynnea's Website