The Power of the Placenta – A Post Partum Review
Written by Nicola @ the BABI PUR blog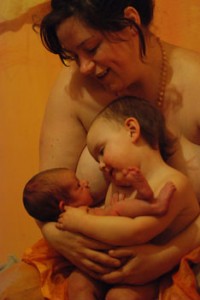 My Placenta Encapsulation was carried out by a local IPEN Specialist – Claire Elwood from Doulamum.co.uk.
…Prior to my Labour Doulamum emailled me with a small amount of information that needed to be prepared before the birth. One was a handout to be kept in the birth plan section of your pregnancy notes, this ensures that the professionals handling the birth now how to deal with the placenta safely so it is safe for human consumption.  There was also printable labels for the container the placenta is to be stored in which I also sterilised and sealed and was sat waiting in a coolbag next to the freezer so it could be put together with the ice packs before leaving home for the hospital.  I also made sure that I discussed the placenta encapsulation with my midwife when discussing the birth plan at 37 weeks pregnant. She was able to make me aware of the facilities available on my chosen hospital and allow me to make appropriate plans.
….The capsules arrived by post 48 hours after the collection….Claire also did a print of my placenta onto paper and a small cord keepsake as well which was a lovely, unexpected touch.
…As Megan Approached 10 days old I felt a notable difference in my energy, and general well being.  I imagined a C-section recovery to be harder than a natural birth and having had a much longer labour with Megan than I did with Quentin (where it took me a good three weeks to feel normal after a 9 hour labour) I was surprised with the results….
The biggest thing I noticed from the pills was my weight loss, I suffered terribly from swelling in my feet and calf muscles in my legs and post surgery the swelling progressed to my thighs. The midwife and hospital doctors warned me it could take up to 6-8 weeks for the swelling to subside. At 10 days post-partum (6 days on placenta pills) I woke up to find I had ankles and normal sized feet for the first time in months, I'd lost a good 2 stone of weight based on my last hospital appointment. A majority of this would be loss of fluids as well as baby but still amazing that the swelling had gone already.  My energy levels have been normal, I don't feel drained. Even with the lack of sleep due to night feeds I feel very relaxed and normal. My milk supply has been plentiful, which is fantastic as I'd been aware that milk can delay or suffer following a c-section. Megan has readily gained weight since birth and hasn't had any weight loss….
…My Verdict – Would I do it again?
YES – I most certainly would, from a personal perspective I feel amazing post-birth this time round. I still lack a little colour due to my blood transfusion, but post-partum recovery hasn't been the challenge that I expected it to be.
I wholly believe that the placenta pills have been the secret to my recovery. Having been though a tough birthing experience I did fear that it would affect my recovery and therefore make things difficult for me with Quentin who is now three. He was the main driving force for pursuing placenta encapsulation in the first place as I wanted to be fit and well for him to enable him to bond with Megan and resume a 'normal' routine with me.
I have shocked many health professionals, both midwives and health visitors with the speed of my C-section/Post-transfusion recovery and many friends and family have commented on how well I look and how well I'm coping. So far very few know about my secret stash of placenta pills, however now I'm so pleased with the results I feel I'm going to have difficulty keeping quiet about them.
Read the full placenta encapsulation blog review here
photo provided by The Lotus Birth Campaign website