By Lynnea Shrief, IPEN Founder and Director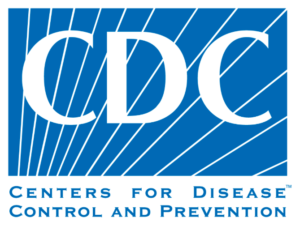 The CDC have concluded in a published report that an Oregon mother infected her infant with GBS (group B Strep bacteria) via her placenta capsules in 2016.  Many media publications are stating this infection was via the mother's breast milk, failing to mention the breast milk test was negative for GBS.  Because this story has created such a fuss with the media and claims are being made about placenta capsules that are not entirely true (including that they are freeze-dried and that they are unsafe for consumption), we thought we would review this case and discuss the likelihood of a mother passing GBS to her infant via consumption of her own placenta capsules. We feel its very important to discuss how these particular capsules in Oregon were prepared and compare them to the processes IPEN Certified placenta specialists use according to the IPEN Food Safety Management System.
You can download the full CDC report of the case here: GBS-and-Placenta-Encaps-case-Oregon
CDC – Placenta Capsules Blamed for Infecting Infant with GBS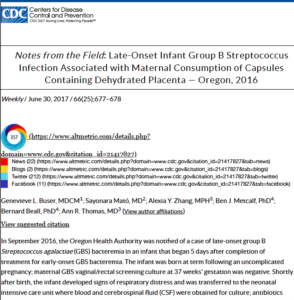 Let's look at the timeline of events and facts of this case:
Mother – Negative GBS vaginal/rectal swab test at 37 weeks
Infant – born vaginally after uncomplicated birth
Infant – respiratory distress shortly after birth, likely GBS contamination via vaginal birth
Infant – GBS blood test confirms GBS infection, antibiotics administered for 11 days in hospital, discharged thereafter
Mother – breastfeeding her infant from birth
Mother – begins consuming placenta capsules 3 days after birth, 2 capsules 3 x per day
Infant – readmitted to hospital at 16 days old for irritability
Infant – GBS blood test confirms GBS infection, two types of antibiotics were prescribed for 6 and 14 days
Mother – Negative GBS breastmilk test
CDC – Positive GBS placenta capsules test
CDC – concludes second infant GBS infection is likely caused by transfer GBS intestinal and skin colonisation from infected placenta capsules.
It's unlikely the mother infected her infant with GBS through breastmilk as the breastmilk test was negative and the CDC admits the reinfection was likely caused by skin transfer which is possible.  However, it's worth noting that the CDC did not rule out infection from other family members, which in our opinion it is more likely considering the mother tested negative for GBS at 37 weeks; she may have contracted GBS from a family member (her partner or an older sibling of the infant) after her 37 week test and before giving birth.  In order for the CDC to prove beyond a doubt that the placenta capsules were the confirmed culprit of the infant's 2nd GBS infection, all household family members should have been tested for GBS.  GBS could have been transferred to the infant from the mother herself (upon returning home) or another household family member who had a soft tissue infection, eye infection, urinary tract infection or ulcer.  It is not mentioned, nor is it clear that the mother was tested and/or treated for GBS post-birth.
Temperature is Very Important when Dehydrating Placenta
The report highlights the methods used by the Oregon specialist which do not meet some basic food safety critical control points to kill pathogens and/or prevent growth of pathogens.  In basic terms, the placenta was not heated to a high enough temperature for a long enough time to kill bacteria and control its growth. The Oregon placenta specialist states on her website that she dehydrates placenta slices at 115°F–160°F (46°C–71°C).  There is a large margin for flexibility within her guidelines and more precise temperature controls must be maintained to ensure the placenta does not dehydrate in an environment that is likely to grow bacteria rather than kill it.
IPEN has developed a comprehensive HACCP food safety management system for our placenta remedy preperation processes, from placenta smoothies, to capsules to placenta essences, our Certified specialists follow step-by-step food hygiene guidelines with critical control points, written by professional food safety experts and validated by 2 of the UK's leading food safety microbiologists.  We also hold and provide evidence of our up-to-date Certificates in Food Safety Level 2, HACCP Level 2 and Infection Control (Bloodborne Pathogen) training.  IPEN Certified placenta specialists dehydrate raw placenta slices at 70°C for 1 hour before reducing the temperature to 55°C for the remaining dehydration time.  The initial 1 hour elevated temperature time ensures surface bacteria and spores are destroyed prior to moving forward with the full dehydration of placenta at a lower temperature.  We monitor our dehydrators using thermometers placed within the dehydrator trays, we test our equipment before each use and we record all our data and sign off on our processes every step of the way for each individual remedy for each client, both to prevent mistakes and prove we followed our guidelines to the very last detail.  We take food safety very seriously at IPEN.  We are very aware that preserving a meat product is difficult and we take special precautions to maintain high standards in personal hygiene, controlled storage environment, preparation environment, monitoring processes and following expert guidelines. We provide our clients with clear and detailed instructions on placenta storage after birth as well as placenta capsules and remedy storage after preparation, both of which are integral in ensuring our clients receive the highest standard of placenta preparation and services available.
Hand Washing when Handling Your Placenta Capsules and Your Baby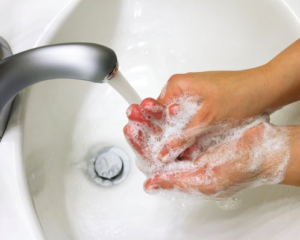 The secondary skin exposure concluded by the CDC is most likely referred to the mother handling her infected placenta capsules and then touching her baby.  She could have handled her contaminated capsules, failed to wash her hands and then put her fingers inside her baby's mouth, or touched her baby's eyes thus reinfecting her baby.  It is also possible that the mother infected her own placenta capsules (which may not have been contaminated initially after preparation by the placenta specialist) by failing to wash her hands before touching her capsules.  It is even possible that she allowed another family member (who may not have washed their hands and could have been a carrier of GBS) to handle and contaminate her capsules.  There are many possibilities in this situation and its unfortunate the CDC did not acknowledge all the variables.
It's very important new mothers wash their hands before retrieving placenta capsules from their storage container and after handling her placenta capsules.  Placenta capsules are dehydrated meat, a very rich food source for bacteria.  Putting unclean hands into the storage jar, or handling capsules and placing them back into the jar exposes the capsules to bacteria combined with moisture from the air creating a rich growth environment for bacteria and spores.  We advise our clients follow our strict storage guidelines and handle their capsules as infrequently as possible, with clean, dry hands only and store their capsules in a cool, dry place, closing the lid or bag zip seal securely after each use.
Mothers of new babies should also wash their hands regularly when handling their baby especially after nappy changes, using the restroom, touching pets and helping/playing with older children or touching public surfaces like shopping trollies or handrails on buses or stairs.  The easiest way to prevent the spread of disease is hand washing.  It should be noted that liquid gel disinfectants do not work as well as water/soap hand washing when removing bacteria from the hands.
The Difference Between Placenta Services in the UK/Europe vs the USA is Oversight
The FDA (Food and Drug Administration) in the USA have confirmed they do not wish to oversee or regulate placenta services as long as they do not affect inter-state commerce (placenta specialists should practice within their home State only).  We aren't aware of State run or local environmental health oversight within the USA.  Placenta Encapsulation Services in the USA are thus, completely unregulated.  It's very important a pregnant mother interested in consuming her placenta after birth researches carefully before choosing a placenta specialist.  There are many placenta specialists in the USA who are trained by credible organisations and offer very high standard placenta services.  We have put together a guide to help mothers choose a professional placenta specialist.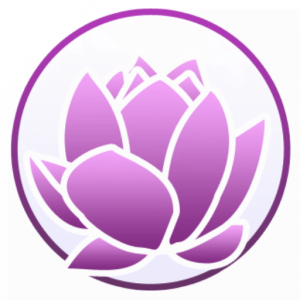 Placenta Specialists in the UK are required to register as food businesses and apply for food hygiene approval by their local environmental health officers and are subject to ongoing inspections just like every other food business in the country.  IPEN Certified specialists have been approved in 4 different boroughs in the UK and many more applications are pending.  To achieve these 5* food hygiene ratings we required many months of research, hired support and assistance from experts in the food safety industry and investment of thousands of pounds in personalised professional documentation including the development of our food safety management system (HACCP).  We are very confident our food safety processes meet all current UK and EU guidelines ensuring we prevent any chance of illness via placenta consumption and we are proud to set such a high standard of care for our clients.
The mother and infant were affected by such complicated circumstances and unfortunate events during the most important time for bonding and nurturing after birth.  We are extremely relieved both the mother and infant ultimately returned to good health. This case highlights the importance of professionalism and oversight by authorities within our unique industry and the importance of maintaining regulated food safety guidelines which supports the health of our clients and prevents unnecessary harm during such a sensitive time.